INTRODUCING
THE SPORTS BRA
THAT WORKS
Engineered to actually reduce motion, allowing you to focus.
The Science: Breast tissue has weight. Simply compressing it or encapsulating it does not keep it from moving. SugarShock™ has a patent-pending solution that reduces motion and increase comfort. IT FEELS DIFFERENT BECAUSE IT IS DIFFERENT.™ The Art: Structural bras aren't attractive and fashion bras aren't functional. You want a great-looking sports bra that lets you concentrate on being your best!
SugarShock The Sports Bra that Works.™
We all need a Sports Bra that Works!
So I made one!
Hi, I'm Trish Hawkins, founder of SugarSports and the inventor of SugarShock™. When I was doing triathlons, I became incredibly frustrated with the sports bras that were available. I wear a 34 D and I looked everywhere for an answer. Finally, I engineered my own sports bra, had it manufactured, built a solid production team and started my own company! I believe that we can achieve anything with enough heart and determination. Women are remarkable, and that includes you.
As I always say,
"C'mon everybody, it'll be fun!""
It Feels Different Because It Is Different.™
PINK
SugarShock Sports Bra
Maximum control of breast weight. Features a pocket on the back. Super style and high-impact for your hardest workouts.
BLUE
SugarShock Sports Bra
Our original design. Controls breast movement for a great workout. Zero movement. Crisp and bright. It's a favorite.
BLACK
SugarShock Sports Bra
Control breast movement with our ultimate sports bra. The effervescent Sugar bubbles make this a fun favorite.
WHITE
SugarShock Sports Bra
The hard to find classic white. Features a pocket on the back. For maximum control of bounce. Sleek and pretty.
Engineered with heart.
At SugarSports, we build women up for success on every level. We start by promoting a healthy life. We promote happiness, a positive self-outlook, and an active lifestyle. While SugarShock™ reduces motion for any size breast, larger-chested women will see significant benefits from our technology. Our beautiful models are real, active women, and they love it! Free your mind from breast motion and focus on what you love. Send us your stories and join the women of SugarSports.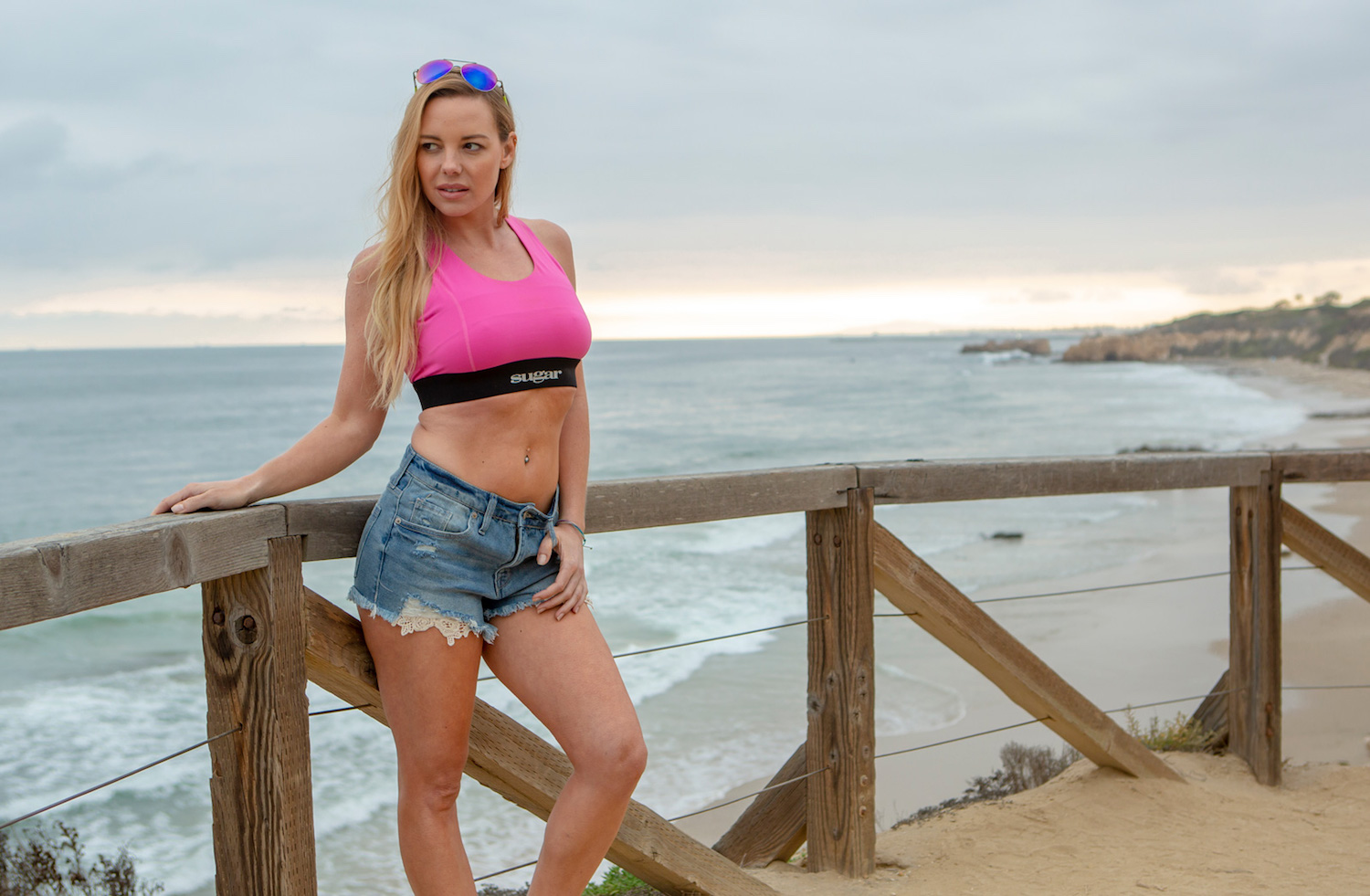 What our CUSTOMERS are saying...
From Trish
How many of us hate our sports bras? Why? Because they just don't work. I created SugarShock because I needed a sports bra that worked, just like you! The problem with sports bras? They don't control breast weight and movement. As we all know, breast tissue has weight, somewhere between 5 and 22 pounds, and that's a lot. If breast weight isn't controlled everything is still going to move. Compression and encapsulation don't control weight. A tighter shoulder strap and rib cage band don't control bounce.
SugarShock has patent pending technology built into the bra that controls breast weight and motion. This gives you maximum high-impact control. The breast tissue moves with your body not against it. It Feels Different Because it IS Different. No more bounce, no more ill fitting bras, no more chafing and blistering, no more pain. You can be at your best in SugarShock.
SugarShock will change how you think about all other sports bras. Give it a try.
The Sports Bra that WORKS!